The Spanking Blog
This is an adult site dedicated to the exploration of spanking between consenting adults. The main focus is on disciplinary spankings portrayed in various spanking videos and pictures, with sample pictures and reviews of the spanking content. The most recent blog posts appear below, and the free spanking picture galleries on this site can be found on the menu on the left. All spanking content on this site is free, and any link leading you outside of this site is clearly labeled as such. You must be 18 years or older to view this site.
[ Thursday, November 21, 2019 ]
RealNakedSpankings.com
Go check out the free previews at RealNakedSpankings.com
[ Monday, September 16, 2019 ]
RealNakedSpankings.com Previews
RealNakedSpankings.com is now live with a ton of free content. All videos now include a preview and all of this can be watched on, and saved to your phone. If you have not checked out our content in quite sometime, as a result of our very dated websites, then it may be time to give us another try.
[ Friday, September 13, 2019 ]
RealNakedSpankings.com
We are pleased to announce our 1st new site in well over a decade. Realnakedspankings.com is a boutique site that features nothing but the naked punishments from my sites. In addition, this site is built off a new content management system that all of our sites will be moving to. This allows for much better mobile access, new search options, a favorites folder for the scenes you like the most but do not want to download. All scenes have preview videos and pictures, and everything is easily downloaded. The site is already a deal with more than 240 scenes and two updates a week. If you have not checked out my sites in quite some time as a result of their dated look, please take a peek at Realnakedspankings.com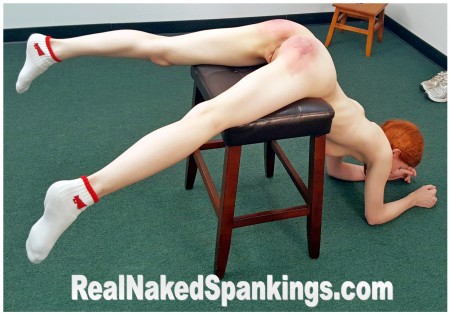 [ Monday, August 26, 2019 ]
New Titles added to our Clip4Sale Store
[ Friday, July 12, 2019 ]
Stevie Rose- School Girl
Stevie Rose is one of the most adorable and popular spankees of all time. This 1 hour and 33-minute video features the very best of her hard-hitting school girl scenes. You will see her caned, paddled, strapped, and handspanked in every imaginable position. You will also get to see her put through her paces in some of the most embarrassing nude corner time positions ever filmed. If you are a Stevie fan, or just love hard schoolgirl corporal punishment, then this is the film for you. Now Available at Spanking Library.
Now Available at Spanking Library.
[ Tuesday, June 11, 2019 ]
The Ambriel Files
Ambriel is an amazing new spanking model whose beauty and desire for hard spankings makes her one of the most exciting new models to come around in years. This 90-minute video features some of her most intense scenes. You will see her punished with a hand, belts, paddles, straps and the wooden spoon. Many of these punishments also feature the gorgeous Ambriel fully naked. If you are an Ambriel fan, this is one for your collection. Now available at Spanking Library.
Now available at Spanking Library.
[ Monday, June 03, 2019 ]
OTK- 2019
For the lovers of over the knee spankings, you have found your happy place. This video features 90 minutes of pure OTK action. You will see young ladies spanked in the most traditional position with the hand, paddle, and wooden spoon. These are not the fun little playful spankings you see on other websites...these are proper OTK punishments applied with the purpose of teaching a very lesson and changing behaviors. Now available at Spanking Library.
Now available at Spanking Library.
Paddled at School- 2019
For the fans of school corporal punishment, this video features 20 separate school paddlings presented in the most realistic way. From gym class, to the classroom, taken out in the hall, and in the principal's office.you will see lovely young bottoms paddled in a manner that is intended to change behavior. All scenes are filmed from two angles, and you always get to see the bruised bottom results after each paddling. This is 90 straight minutes of hard paddlings that always lead to bruised bottoms and often to tears. Now available at Spanking Library.
"The Anabelle Files"
The Anabelle Files- This video features 90+ minutes of nothing but the very best scenes feature Anabelle. With a perfect body and an amazing bottom, you will see this young lady punished, spanked, and embarrassed in every possible way. Now available at Spanking Library
[ Wednesday, April 17, 2019 ]
The Julia Files
Now available on PPV at SpankingLibrary.com
This PPV runs over 90 minutes and includes 17 different scenes all featuring the ever so cute Julia. While spanking is indeed the focus of this video, it also features heavy doses of nudity and embarrassment. In many of the scenes, she is required to strip fully nude and present her princess parts in the most embarrassing ways possible. From the diaper position to wide stances while spreading her butt cheeks open, you will see embarrassment used as a punishment in the most effective of ways. While this video mostly features hand and strap punishments, there is also a paddling scene to tears (not the only tears in the movie).
Now available on PPV at SpankingLibrary.com