The Spanking Blog
This is an adult site dedicated to the exploration of spanking between consenting adults. The main focus is on disciplinary spankings portrayed in various spanking videos and pictures, with sample pictures and reviews of the spanking content. The most recent blog posts appear below, and the free spanking picture galleries on this site can be found on the menu on the left. All spanking content on this site is free, and any link leading you outside of this site is clearly labeled as such. You must be 18 years or older to view this site.
[ Friday, July 12, 2019 ]
Stevie Rose- School Girl
Stevie Rose is one of the most adorable and popular spankees of all time. This 1 hour and 33-minute video features the very best of her hard-hitting school girl scenes. You will see her caned, paddled, strapped, and handspanked in every imaginable position. You will also get to see her put through her paces in some of the most embarrassing nude corner time positions ever filmed. If you are a Stevie fan, or just love hard schoolgirl corporal punishment, then this is the film for you. Now Available at Spanking Library.
Now Available at Spanking Library.
[ Tuesday, June 11, 2019 ]
The Ambriel Files
Ambriel is an amazing new spanking model whose beauty and desire for hard spankings makes her one of the most exciting new models to come around in years. This 90-minute video features some of her most intense scenes. You will see her punished with a hand, belts, paddles, straps and the wooden spoon. Many of these punishments also feature the gorgeous Ambriel fully naked. If you are an Ambriel fan, this is one for your collection. Now available at Spanking Library.
Now available at Spanking Library.
[ Monday, June 03, 2019 ]
OTK- 2019
For the lovers of over the knee spankings, you have found your happy place. This video features 90 minutes of pure OTK action. You will see young ladies spanked in the most traditional position with the hand, paddle, and wooden spoon. These are not the fun little playful spankings you see on other websites...these are proper OTK punishments applied with the purpose of teaching a very lesson and changing behaviors. Now available at Spanking Library.
Now available at Spanking Library.
Paddled at School- 2019
For the fans of school corporal punishment, this video features 20 separate school paddlings presented in the most realistic way. From gym class, to the classroom, taken out in the hall, and in the principal's office.you will see lovely young bottoms paddled in a manner that is intended to change behavior. All scenes are filmed from two angles, and you always get to see the bruised bottom results after each paddling. This is 90 straight minutes of hard paddlings that always lead to bruised bottoms and often to tears. Now available at Spanking Library.
"The Anabelle Files"
The Anabelle Files- This video features 90+ minutes of nothing but the very best scenes feature Anabelle. With a perfect body and an amazing bottom, you will see this young lady punished, spanked, and embarrassed in every possible way. Now available at Spanking Library
[ Wednesday, April 17, 2019 ]
The Julia Files
Now available on PPV at SpankingLibrary.com
This PPV runs over 90 minutes and includes 17 different scenes all featuring the ever so cute Julia. While spanking is indeed the focus of this video, it also features heavy doses of nudity and embarrassment. In many of the scenes, she is required to strip fully nude and present her princess parts in the most embarrassing ways possible. From the diaper position to wide stances while spreading her butt cheeks open, you will see embarrassment used as a punishment in the most effective of ways. While this video mostly features hand and strap punishments, there is also a paddling scene to tears (not the only tears in the movie).
Now available on PPV at SpankingLibrary.com
[ Wednesday, March 27, 2019 ]
Realspankings Pass 1/2 price sale ending
I see a lot of adult producers bundling their content. Amazing deals like 8 videos for $50. Well, I have been running a promotional price for RealspankingsPass.com . At the current sale price of $34.99, which will be ending very soon, you get access to all of my subscriptions sites in which a female is getting her bottom punished. As of this morning that is a total of 8,547 separate scenes. I challenge anyone to show me an offer that comes anywhere close to this in the spanking world. We have always worked very hard to provide the best value for our customers and I think this is as big as we have gone. The best part, this is not just our past scenes, you still get 3 new updates a week, per site, for as long as your subscription is active. Also, as long as you remain a member, the price will never change. Take advantage of this offer and join RealspankingsPass.com for $34.99.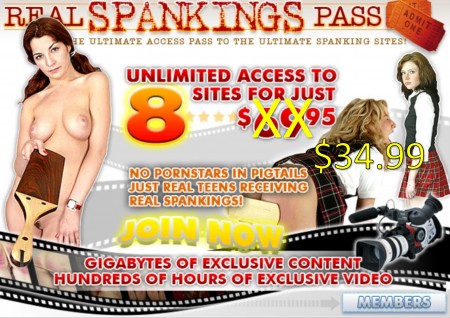 Take advantage of this offer and join RealspankingsPass.com for $34.99.
[ Wednesday, February 13, 2019 ]
Skirts Up, Knickers Down
NOW AVAILABLE AT SPANKING LIBRARY
As the title implies, this video is all about schoolgirls dropping their knickers, and lifting their skirts for traditional school corporal punishment. All scenes involve a young lady in full and traditional school uniforms receiving a bare bottom spanking. The video runs 1 hour and 36 minutes, with 18 different scenes. You will see bottoms blistered with the hand, belt, tawse, ruler, wooden spoon, breadboard, strap, and wooden paddles. Most of these scenes run on the more severe side and some result in tears. As an added bonus I have included the only pussy spanking scene we have ever filmed for a young lady caught masturbating in study hall.
NOW AVAILABLE AT SPANKING LIBRARY

[ Monday, January 28, 2019 ]
Naked, Embarrassed, and Exposed-2019
Now available at Spanking Library
This is the 2019 installment of our most popular series. This video run 91 minutes, with 17 different scenes, featuring seven different models. Each scene focuses on the addition of nudity and extreme embarrassment for their punishments. Each girl is stripped naked and left in exposed and vulnerable positions...before, during, and after her spanking. You will see young schoolgirls stripped fully naked, spread their legs, bend over, and spread their bottom cheeks for the world to see. You will see difficult timeouts, fully naked, with each young lady showing her most private of parts. While every scene does feature very embarrassing and exposed positions, as you have come to expect from my videos, the spankings that are administered are very intense, many leading to tears. If naked schoolgirls being punished in the most exposed positions possible is your thing, then this is the video for you.
https://www.spankinglibrary.com/store.php?id=363
[ Thursday, January 17, 2019 ]
Brand new school paddling PPV
Now available at Spanking Library.. I am pleased to bring you our latest video featuring the most realistic school paddling videos ever filmed. These are some of my latest and greatest clips, with the realism and severity you have come to expect from my work. This video runs a full 90 minutes, with 19 different scenes, featuring 10 different models. Each clip shows exactly how a hard school paddling is applied in principal's offices through the South. Each scene features full force paddle swats applied to the bottoms of naughty school girls, filmed from the butt view and the face view. While all paddlings are administered over clothing, each young lady bares her bottom at the end so you can see the bottom bruising results. You will see exactly how effective severe school paddle swats can be, each young lady leaving with a very bruised bottom, and many scenes lead to very real tears and crying. I see so many producers here charging $8-11 for a single clip. This video is $19, for 19 different scenes, which I feel is a very fair price. So if you are a fan of realistic school paddlings, with realistic scenarios, is zero acting once the paddling begins...this is the video for you.

Now available at Spanking Library..